Most trusted HR software to manage your workforce flawless. Introducing Corbuz HRMS, an amazing HR Software to manage your work force in a simple way.
What makes Corbuz HRMS your best choice
Centralized and secure data
Manage all your HR administrative actions from a central location. Search employees, set favorites, view organization trees and analyze attrition reports - all from a single dashboard.
Time efficient & self-serving
Corbuz allows employees update their personal data, skill sets, check-in/out, etc. The next level Managers can access all these information about subordinates, have control on approvals, time sheets, and more.
Easy tracking of time and attendance
Eliminate errors due to manual entries. Consolidate attendance data from multiple devices, customize leave types, schedule jobs and create timesheets with ease.
Simple employee performance index
Identify the skills of your employees and the places they can improve. Set goals, gather 360-degree feedback, and review performance; bridge the gap between where employees are and where they need to be.
Automate workflows & reminders
Schedule reminders for key events, work anniversaries, birthdays and more. Configure email alerts for probation completion or changes in any important data like a change in position or a department transfer.
Fit to business customisation
Create custom forms for onboarding, benefits, travel, exit, etc. Define functions and connect smoothly with third party applications.
Designed & Developed to provide top-notch HR Solutions
Corbuz, with a dream of redefining Human Resource Management (HRM). Since then our inventive use of cloud computing has reformed the way business software is delivered and used, changing the industry forever.
Ever since we launched our HRM solution, Corbuz products have run totally in the cloud technology. That means it's all online – no software, no hardware only internet. There are no expensive setup costs, no maintenance, your employees can work from any device with an internet connection – smartphone, tablet or laptop – and with version-controlled free upgrades whenever situations demand it is ideal for small businesses and large enterprises alike. This revolutionary method has helped to make Corbuz HRMS a leading HRM system.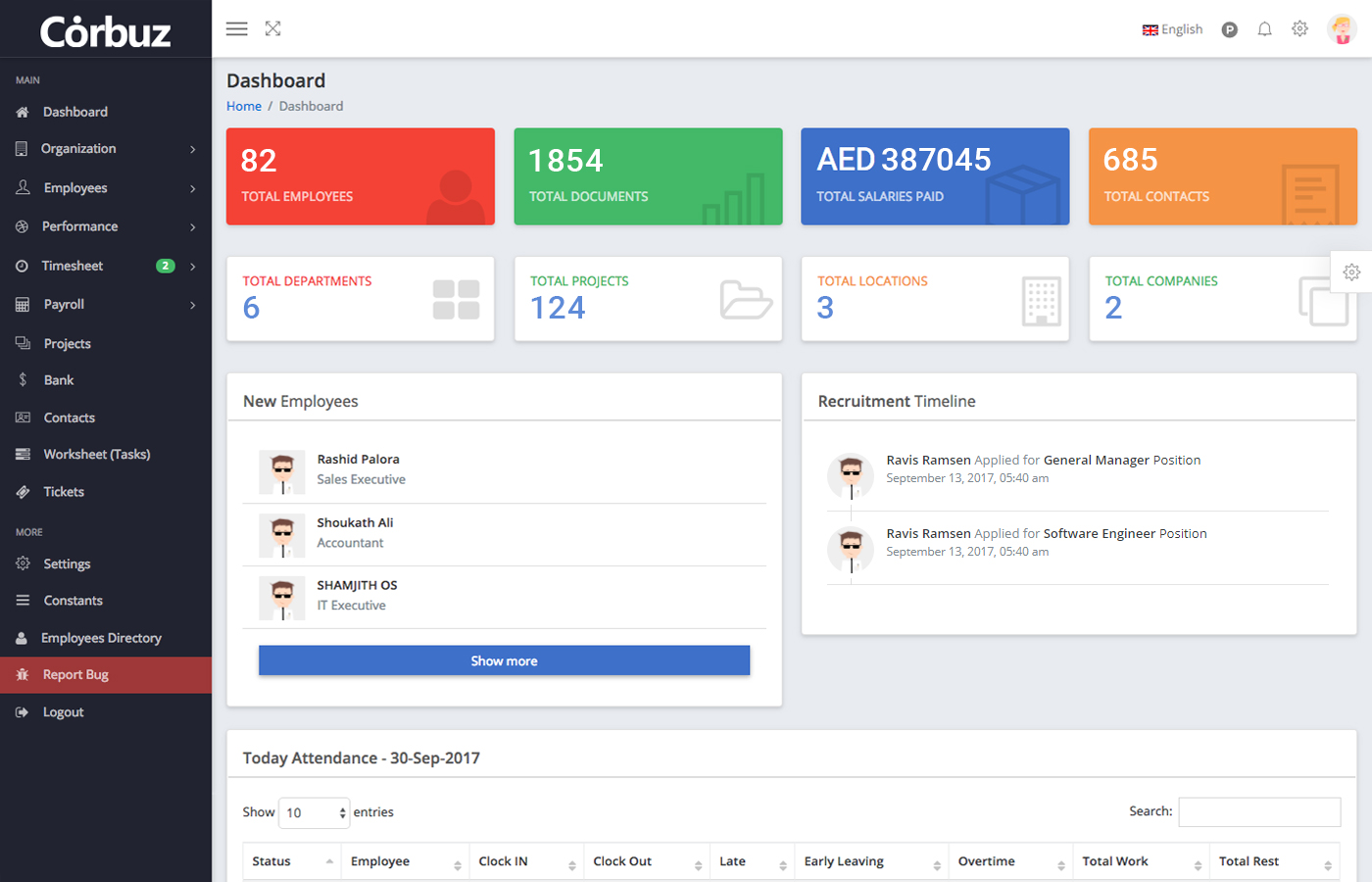 Corbuz HRMS is special
Employee Self-Service
All your people data is in one place that's simple and beautiful to use. Employees even do most of the data entry themselves and can take responsibility for updating their own profiles.
Document Mangement
All your important documents can be stored in our cloud system which is well secured with advanced security techniques. Our alert system will alert you regarding the expiry, renewals, etc.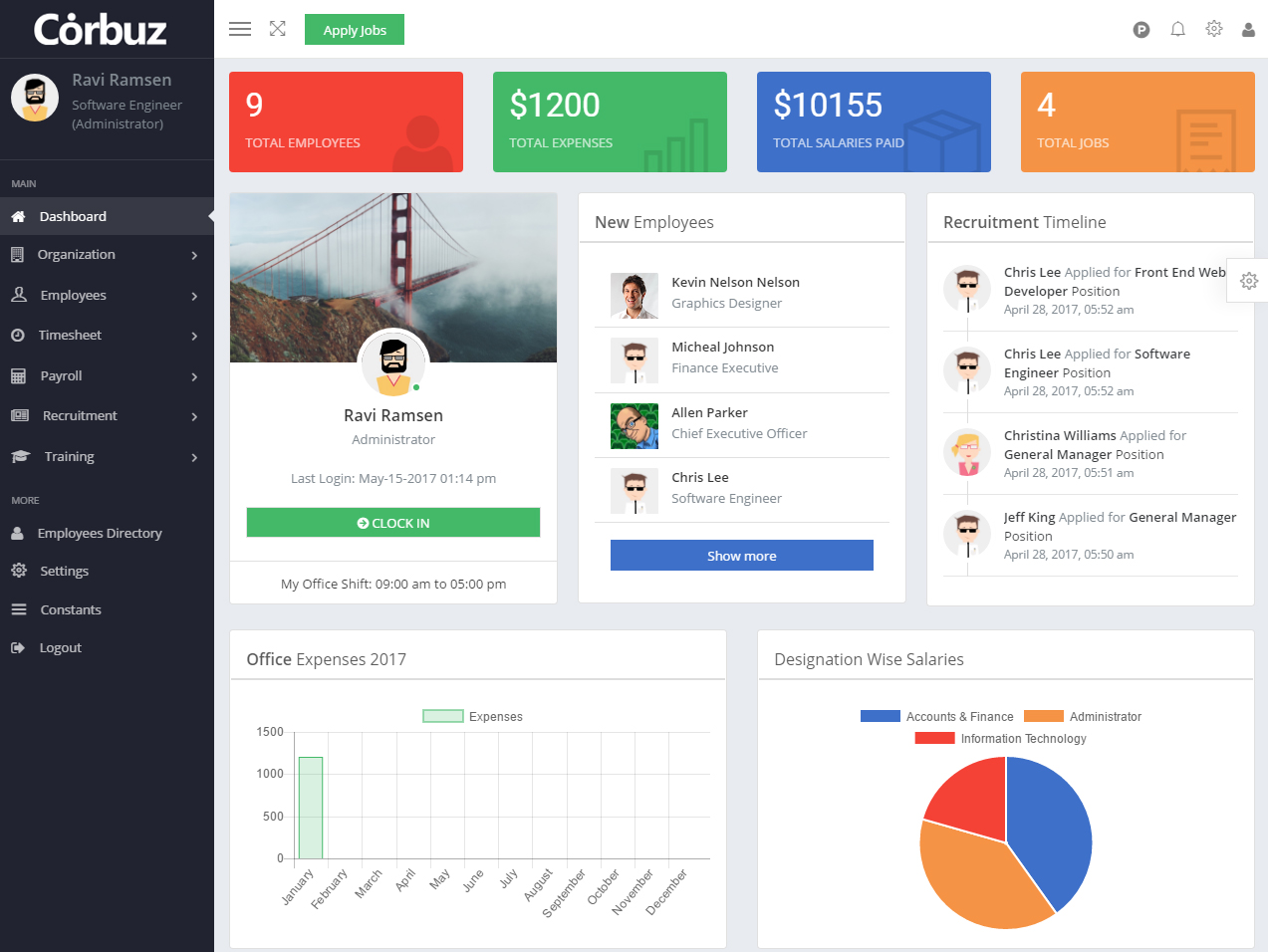 More reasons to choose Corbuz HRMS
Corbuz HRMS is a performance and accessibility oriented cloud application, which reforms and upgrades. These are some more reasons to make your right choice.
We answers your
questions
We value our customers, we believe we are answerable to all your concers and queries.
Here are the answers to some of the most common questions we hear from our appreciated customers
What is Corbuz HRMS and how to get started with Corbuz HRMS?

Corbuz HRMS is a simple online HRMS tool designed to manage and access all your employee data from a centralized location. Learn more about features. To get started, all you need is a device with an internet connection and a Corbuz account. However, there is no software installation required. Click here to sign up for the Corbuz account.

Does Corbuz HRMS perform backups regularly and what is the up-time guarantee? Is my data safe & secure?

Corbuz HRMS regularly take backups in daily and weekly basis. Also, we have recovery servers for any emergencies. Corbuz guarantees 99.99% up-time (excluding any scheduled/emergency Corbuz HRMS maintenance). Your data is completely safe with us. Corbuz HRMS provides high data security which ensures that your data is secure and private. We offer security on multiple levels including the physical, software and people/process levels. We use 256 bit SSL encryption, state of the art infrastructure and software security to ensure the safety of your data.